Dear Friends of the Ripa International Sangha,

The sunny days remind us that Spring is just around the corner. The awakening of nature encourages us to look on the bright side of life. Moreover, the Swiss government's talks on easing of Covid measures give us hope that gatherings will soon be held once again without too many restrictions. So much good news to begin the year!

The coming months will be rich in teachings, gatherings and opportunities to practice together, either online or in person. We let you discover below the little gems of teachings that the RIC will be organizing, thanks to the generosity and availability of our very dear Masters.

In addition, some important information about the life of our Sangha…To be read with love and attention!

ACCUMULATIONS FOR HIS EMINENCE

As you may know, our friends in the Russian Sangha have taken the initiative to accumulate Long Life Prayers for His Eminence. You will find all the details at the bottom of the page.

SUMMER RETREAT AND 10TH ANNIVERSARY OF RIC

Please take note of the dates for our 2022 Summer Retreat, which this year will mark the 10th anniversary of the opening of the Ripa International Center! A team is emerging to work on preparations for the festivities. If you would like to be a part of it, please email us at: info@ripa-international.com

A GIFT FOR YOU! 

And already, a small gift for the entire Sangha in this special year of celebrations! Irene Gil, sister of our Sangha in Spain, has prepared with much love and affection this beautiful calendar to celebrate the first 10 years of the RIC; it shows the dates of our monthly practices and special days on the Tibetan calendar. You may download it HERE.

REGULAR PRACTICES BY ZOOM

As some of you may know, the RIC continues to broadcast our monthly practices LIVE, as well as the Sangye Menla practice on the 1st Sunday of each month.
Please mark these dates in your calendar using Irene's calendar or the website, as well as the Zoom link – it doesn't change, so you can keep it safe!

We look forward to seeing you very soon on site or online, and we send our best wishes to all of you.
With Love and Gratitude,
The RIC and Ripa Ladrang Foundation
February 19th – 20th
Via Zoom
Gesar's Life Story and Teaching on Gesar Lhasang
with Lama Tenzin
March 26th – 27th
April 2nd – 3rd
Via Zoom
Buddhist Philosophy, Year 2: The Path of the Middle Way
Chapters 5 – 13
with Khenpo Tenzin Wangdue
April 13th – 18th
Residential
Nyung Né
with Lama Tenzin Phuntsok
If you would like  Nyung Ne to be organized this year, please write to us expressing your wish. We will organize it with a minimum number of 15 participants having shown their interest.
April 22nd – 24th
Onsite /Online
Karma: Fate or Freedom?
with Gyétrul Jigmé Rinpoché
May 20th – 22nd
Residential
Teaching on the Yidam & Hayagriva Empowerment
with Dungsey Lhuntrul Rinpoché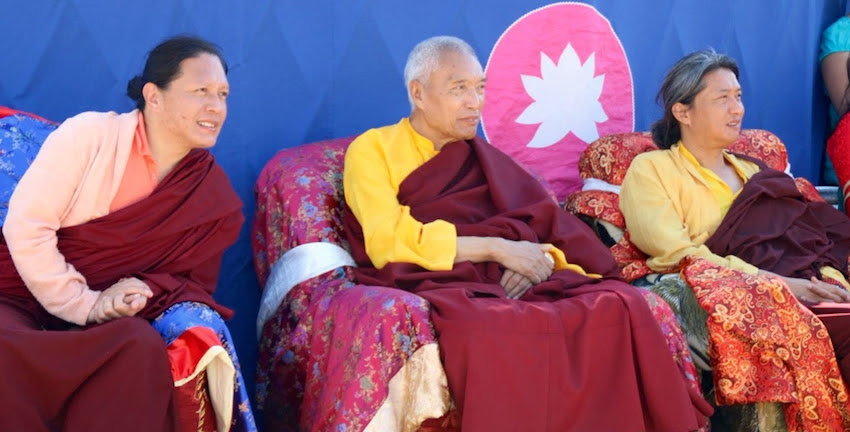 July 23rd – August 12th
Onsite
RIPA INTERNATIONAL SUMMER RETREAT
With the three Masters of the Ripa Lineage
ACCUMULATIONS FOR
HIS EMINENCE
Dear Sangha Friends,

With less than 6 weeks to go before the birthday of His Eminence NDR, our accumulation numbers of his Long Life prayers on the Ripa Russia website are less than 50,000 since the project was launched. Surely some of you have not yet registered your number of accumulations.
The purpose of this accumulation; to lengthen the Life of our Masters – and even if it is only by one day – represents by their activity the saving of many lives and souls of suffering beings in the six worlds of Samsara.
Therefore, we encourage each of you to give a little more of your time in order to accumulate two or three malas per day of his short prayer, following the guidelines given by Ripa Russia. It should only take you 15 to 20 minutes.

http://www.ripa-center.ru/buddhist_teachings/pray4HENDR2022/eng.php

Thank you for your understanding and looking forward to seeing you soon. To your malas!

Yours In the Dharma,
Carlo

Gardening Weekends with Nadya Grau
February 26th – 27th
Join us for gardening outdoors, meeting new people and helping our estate garden bloom more and more!
You may contact Nadya Grau at: nadyafleur@gmx.ch