Orissa, India
After departing Tibet in 1959 due to the communist invasion, the Ripa Masters and followers ended up relocating to the state of Orissa, India. In Orissa, Tibetan Refuge Camps where set up in the town of Chandragiri to accommodate all of the Tibetan refuge families connected to the Ripa Lineage. Upon settling down in Chandragiri, the Ripa Masters constructed The Thupten Mindrolling Monastery as the new main monastery of the Ripa Lineage. The monastery is alternatively called the Padmasambhava Mahavihara Monastery.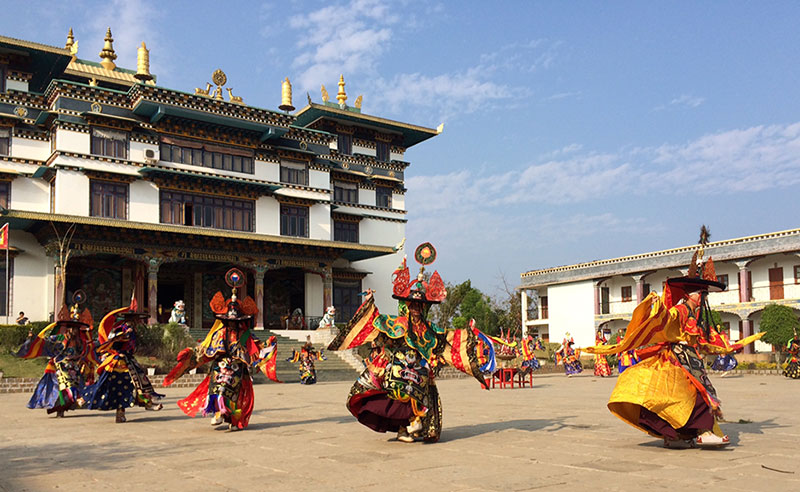 Currently, over 4000 Tibetans in five Refuge Camps all associated with the Ripa Lineage, still live in Chandragiri, Orissa. While technically, they are still Tibetan refuges, Chandragiri is now considered as being their permanent home. About five to six years back, a project began to create a much grander monastery. The new Thupten Mindrolling Monastery is now completed and has housing to accommodate over 400 monks. The central Gompa of the monastery is much larger and houses 3 primary status deities of the Buddha, Guru Rinpoche, and Avalokiteshvara all of which are roughly 2-3 stories high.
The monastery is situated on a large plot of land, roughly 1-2 acres, in Chandragiri, Orissa India. The monastery has beautiful views overlooking the rolling hills of the Orissa valley. It has become an epicenter of activities dedicated to the benefit of all sentient beings in India.