Aid for Ripa Infrastructure & Communities in Nepal
Dear Friends of Ripa Ladrang,
The recent earthquake has not only claimed thousands of lives and displaced many people; it has created havoc in communities and destroyed centuries of history. The rebuilding effort for Nepal and all its history, plus strong monuments of faith for its people will take many months of strength and effort to repair.
The Ripa Ladrang Monastery in Nepal has been a vision of the Ripa Master Terton Namkha Drimed Rabjam Rinpoche. His vision was based on many prophecies to benefit beings. He saw that the monastery would be a home for hundreds of monks and preserve the culture and traditions of Vajrayana Buddhism. As a place of prayer, inner peace and refuge, it is a living embodiment of profound traditions and many communities rely on its support both spiritually and monetarily.
This project has been the loving manifestation of many generous people with strong positive aspirations and deep faith in the Ripa Lineage and in the vision and aspirations of His Eminence Namkha Drimed Rabjam Rinpoche. The Ripa Lineage is a living refuge of inner peace for thousands of people across the world and an example of true compassion on the spiritual path. Living this example, the Ripa family and monks are now carrying out these acts of genuine compassion in this difficult situation.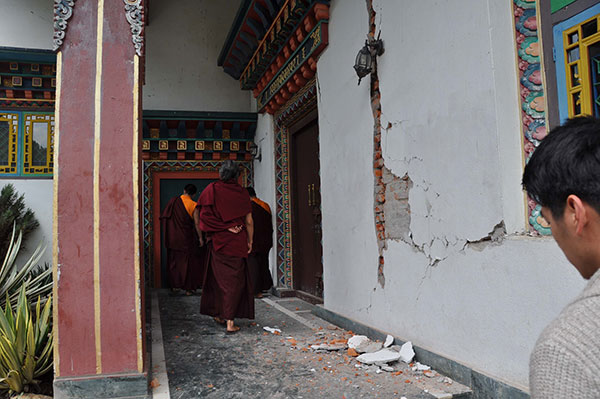 The Ripa family and monk community have been deeply engaged in the humanitarian relief efforts. Gyetrul Jigme Rinpoche has been reaching out to the remote areas of the hills to close communities providing spiritual strength and prayers. The Ripa family and monks have been distributing tents, food, basic supplies and blankets. As they are reaching out, we are getting news that the need for these basic supplies is even greater.
The Ripa monastery and monk hostels recently went through the initial architectural assessment. Though pronounced structurally sound, they have incurred significant damage to the walls in the main Gompa building, torma room and the classrooms. Brick has fallen off some areas and there is danger of more falling bricks and ornamental structures. The statues and Thangka paintings on the wall have deep cracks and need urgent assessment for repair. We believe that a delay in repairs will cause further damage; therefore, we are moving forward quickly with reconstruction.
Ripa Ladrang Foundation seeks your help in reconstruction and repair for its infrastructure and to provide support and humanitarian relief efforts to our close communities.
We have Ripa Sangha across the world for which this monastery and its communities are home. We all share a strong karmic connection with this land and this lineage. All your prayers and monetary support will only strengthen that bond further. So please share this message with all of our friends and family to help us rebuild quickly!
Please help us with your prayers and support us by donating below:
Thank you again for your kind heart and good wishes.
Sincerely,
The Ripa Ladrang Team
---
The video below from The New York Times shows Kathmandu before the earthquake, and some of the priceless and ancient religious sites and landmarks that were lost.