His Eminence Visits the Sacred Land of Pemaköd,
At the invitation of Khenpo Tsering Dorjee, His Eminence Namkha Drimed Rinpoche accompanied by Mayum-la Khandro Chime Dolkar, Semo Sonam Khamritsang, Ugyen Khamritsang, Semo Palmo, Semo Sonam, Semo Pede, Sey Kunsang, Alan Goldstein and several of those who left Tibet with His Eminence, made a most auspicious visit to the sacred region of Beyul Pemaköd in the early Spring of 2018. Pemaköd is in the restricted area of Arunachaia Pradesh, India on the Tibetan border.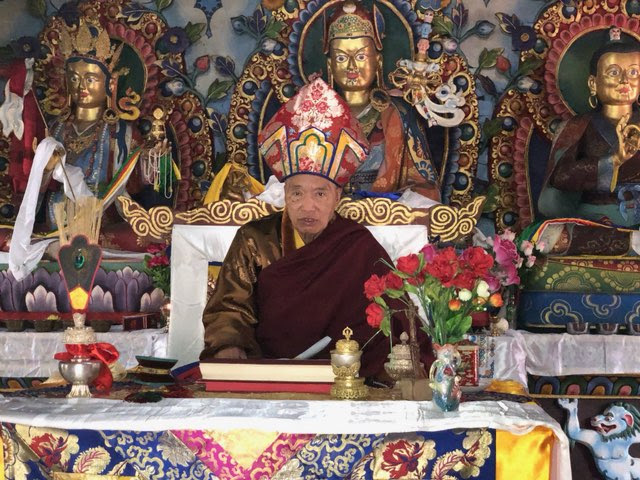 Known as "The Hidden Land," Pemaköd is located on a secluded plateau in the Himalayan Mountains. This exquisite, ancient land was once part of Tibet. Untouched by outside influences, this sacred region remains as spiritually pristine as in the time of Guru Padmasambhava, who practiced extensively in many caves there and blessed the land with the concealment of many sacred treasures. It is therefore one of the most sacred and rare places in today`s world for spiritual practitioners to meditate and practice Dharma.
It was a joyous return for Rinpoche and Mayum-La who had lived there nearly 60 years ago following the Ripa Communities escape from Tibet. In 1960, after crossing over from Tibet, His Eminence settled in Pemaköd and it is there that he met his consort. At that time, the people of Pemaköd welcomed them warmly and His Eminence was offered a home and a monastery. They stayed for almost three years before moving on to India where the Indian Government settled them in Orissa.
Due to the remoteness of this sacred region, His Eminence traveled to Pemaköd by helicopter while his entourage made the two-day trip by road. His Eminence spent several weeks visiting monasteries, small village gompas and pilgrimage sites. Among the monasteries he visited was the Payul Monastery at Tuting where he was invited by Khenpo Tsering Dorjee to bestow his Gong Ter mind treasures over a period of three weeks. At Dewakota and at the invitation of Tulku Pema Rigzin, His Eminence conducted a three-day puja at Telchok Osel Choling Monastery. He also visited the Tashigong Monastery and the Yurtong Monastery at the invitation of Tulku Orgyen. They had recently restored their retreat land and built the Deden Tashi Choeling Temple in the style of Zangdok Palri, the Lotus Light Palace of Guru Rinpoche. His Eminence gave a number of empowerments there and conducted a fire puja on the land for the benefit of all beings.
May All Beings Benefit!

---