Kathmandu, Nepal
The Completion of His Eminence Namkha Rinpoche's Gongter Edition 
On the 29th day of July, 2020, the 10th day of the 6th month of the Tibetan lunar calendar, the Ripa Ladrang family celebrated Guru Padmasambhava's day in their residence, offering a big Tsog as part of the Thugdrub Sampa Lhundrub Sadhana. On behalf of the Ripa International Centre and all of the Ripa students from East and West, Khenpo Tenzin Wangdü, the Khenpo of Rigon Tashi Choeling monastery in Pharping, and Lama Tenzin Phuntsok, reference Lama of Ripa International Centre, offered the ritual mandala to His Eminence, the Great Terton Namkha Drimed Rabjam Rinpoche. This offering included representations of the enlightened Body, Speech and Mind, khatags and other offerings. The ceremony was performed with motivation to thank him for the completion of the Mind Treasures revision  and to request him to live a long life free from obstacles and to reveal the totality of the teachings contained in his heart for the benefit of all beings. 
Each of these Gongter texts are the Heart Essence of the Great Padmasambhava, supremely kind to all of the beings of the world in general and to Tibetans in particular, and Gesar Norbu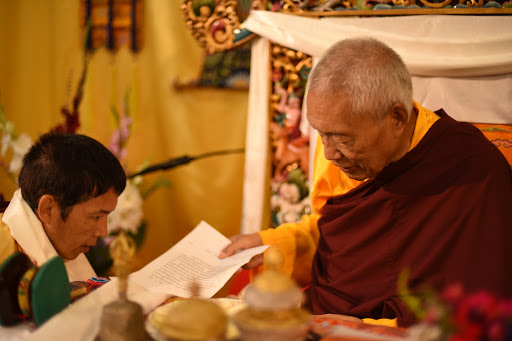 Drandul,embodiment of three main Bodhisattvas (Manjushri, Chenrezig and Varjapani). His Eminence receives theseMind Treasures as a directmind-to-mind transmission and then writes them down. He started transcribing them when he was 17 years old in Rigon Tashi Chöling Monastery, in Tibet. Afterward, he continued revealing them in the holy place of Pemakö, in Odisha and Darjeeling in India, in Paro Taktsang and Bumthang Kuje Lhakhang in Bhutan, and in Yangleshö, more widely known as Pharping, in Nepal.
One of the early attendants of Rinpoche, called Akhu Lhapten, had a good knowledge of Tibetan grammar and was skillful in the calligraphy of Ume writing style, the most commonly used in Eastern Tibet. For this duty, he was using a small copper inkpot designed with a ring under its base to insert the left thumb. Holding with his left hand, the wooden cover used to bind the volumes as a support for the paper, he wrote a first copy by hand of His Eminence's works using a bamboo pen made by himself, so other people could have access to these termas. He faithfully served Rinpoche for many years. 
After Akhu Lhapten passed away in 2011, a nephew of the Ripa Ladrang family called 
Sherab Woser, who had a talent for computing, took the responsibility of processing the Gongter texts into Uchen, the typography most widely used in all regions of Tibet and by the communities in exile. During that period, Venerable Khenpo Chöphel Norbu, Khenpo Tenzin Wangdü and I occasionally corrected part of the texts.  
Following the wish and advice of Gyetrul Jigme Rinpoche, we planned to complete the correction of His Eminence's Gongter cycle. In order to fulfill this task, I travelled to Nepal on the 14th of January, 2020 and have been working together with two Venerable Khenpos in the presence of our Great Terton for the last six and one-half months. It was remarkable that His Eminence attended each session every single day throughout our endeavor, since we had requested him to be present to avoid making a mistake or misinterpreting any point. It occurs that those fortunate ones who stay close to him naturally abide in calm by the influence of his awakened Mind and warm blessings. Being so, our work could progress like a river gently flowing, without any unharmonious event, hindrances or mishaps. 
I would like to acknowledge the effort of both venerable Khenpos who worked tirelessly on the corrections and the Ripa Ladrang and Semo Palmo families who were 
so kind to us, arranging nice rooms and delicious food, as well as His Eminence's staff and attendants, who did their best taking very good care of us. My beloved wife, Rinchen Tsogyal, also supported me with all her heart, expressing her faith, love and loyalty to His Eminence, and always being aware of the value and importance of this work.
In fact, the Covid-19 pandemic that is changing the life of the population of the whole world and representing a global challenge, became one of the main reasons for us to complete the correction and edition of the Gongter Cycle Texts. We were compelled to be locked-down as if we were in retreat, becoming devoted to the entrusted project, and as a result completing sixteen volumes with 634 sections, 9,986 pages and 129 deity pictures.
By this pure and excellent virtue, may the teachings of Buddha, which are the source of benefit and happiness, spread all over the world and remain for a lengthy period. May all the teachers in general and our precious Masters His Eminence the Great Terton Namkha Drimed Rabjam Rinpoche, Gyetrul Jigme Rinpoche and Lhuntrul Rinpoche in particular, be endowed with longevity and their activities expand in all directions. May the Gongter teachings flourish in the world and pacify the sicknesses, wars and famine of this degenerated time and bring all the wealth and happiness to sentient beings, as a rain that falls at the right time, harvesting excellent crops, having good cattle and so on. May Mr. Heinz Buhofer, who is the sponsor of this project, and all the other sponsors and students of the Ripa lineage be free from obstacles and succeed in all your different aims and projects. May compassion and Bodhichitta develop in the mind-stream of all beings, the ones who have form and the formless ones, so they can cover swiftly and smoothly the path reaching the supreme joy of Enlightenment. 
In the midst of this wandering in the enormous and countless realms of samsara, we have found a precious human life, met the pure lineage of Padmasambhava and get to follow as our master the Great Terton Namkha Drimed Rabjam Rinpoche, who can't be dissociated from Gesar himself. I feel that getting the opportunity to be at the service of these fresh and alive teachings, even in a modest way, is as fortunate as being born in the Lotus Light Palace and receive teachings from Ogyen Guru Rinpoche in person. 
Lama Tenzin Phuntsok
Corrector and Editor of the Final Gongter Texts.
With Love and Gratitude,
Ripa International Center and Ripa Ladrang Foundation 
Lama Tenzin Phuntsok
Reference Lama of the Ripa International Center
Lama Tenzin is the Reference Lama of the Ripa International Center and the Ripa Sangha in Europe at large. He is an accomplished ritual master, having received teachings, instructions and initiations from great Lamas, such as H.H. Dalai Lama, H.H. Dilgo Khyentse Rinpoche, H.H. Penor Rinpoche, H.E. Sechen Rabjam Rinpoche, H.E. Chatral Rinpoche, H.E. Karma Chakmed Rinpoche, H.E.Chokling Rinpoche, H.E. Rigzin Gyatso Rinpoche, and especially with great love and compassion from his root gurus, H.E. Namkha Drimed Rabjam Rinpoche and H.E. Azin Rinpoche, who taught him all he knows about the ritual aspects and the performance and meaning of the Vajrayana practice.