Easter Retreat Nyung Nay – Traditional Tibetan Fasting Ritual
With Dungsey Lhuntrul Dechen Gyurmey Rinpoche
The Nyung Nay is a traditional spiritual fast in Tibetan Buddhism that aims to purify outdated patterns of behavior, offering us the opportunity to free spiritual, emotional and psychological resources and thus accelerate our personal and spiritual growth.
They will be two pair of Nyung Nay offered.
With Dungsey Lhuntrul Dechen Gyurmey Rinpoche, a highly accomplished ritual master in the tradition of Vajrayana Buddhism, he was recognized as the reincarnation of Jigme Tempay Gyeltsen, the third Tamdrin Lhunpo Chogtrul.
Normal price: 250 € / 275 CHF  (excl. accommodation)
Reduced price: 195 € / 220 CHF* (excl. accommodation)
(*students, unemployed, seniors and members of Ripa and Padma Ling)
More info: info@ripa-international.com
About the Teacher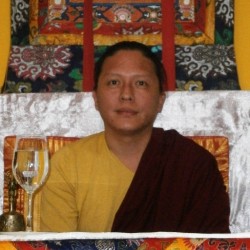 Lhuntrul Dechen Gyurmey Rinpoche was born, in keeping with Guru Rinpoche's prophecy, in 1976 as the son of His Eminence Namkha Drimed Rabjam Rinpoche and Khandro Chime Drolkar. He was recognized as the reincarnation of Jigme Tempay Gyeltsen, the 3rd … More →